FOR IMMEDIATE RELEASE
November 23, 2010

Contact:

Chloe Baker
(954) 783-7821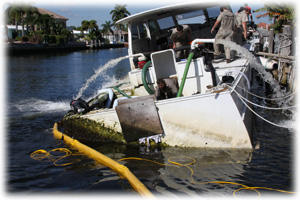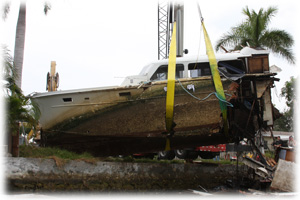 TowBoatU.S. Ft. Lauderdale Brings The Community Together
To Help A Pompano Beach Homeowner
An elderly Pompano Beach couple rented their dock to the owner of a 62' Huckins many years ago. They enjoyed a mutually beneficial relationship for several years until the boat fell into a state of disrepair, her owner stopped visiting the boat, and soon the dockage payments ceased. Days turned into months...and months into years, finally, the boat began taking on water, her bilge pumps failed and she settled to the bottom of the canal. This was nearly two years ago and the homeowner has been dealing with the legal and environmental issues related to this tragic turn of events ever since. To make matters worse, all of these problems landed squarely on the shoulders of the wife when her husband passed away earlier this year.
The local Fox affiliate, WSVN 7 News recently did a story on their "Help Me Howard" feature to help the homeowner with her plight. TowBoatU.S. Ft. Lauderdale had been involved in an operation to refloat the boat in order to remove all fuel from her tanks and decontaminate her engine room in an effort to minimize environmental impact late in 2009. Subsequently, the boat was left unattended at the dock for several more months and sunk once again. When Director of Sales Barney Hauf saw the story on Help Me Howard, he began to conceive a plan to help. Hauf noted "We saw this as an opportunity to give back to the community that has embraced our company for over twenty years. The homeowner, the neighborhood, federal, state, county and local government could all benefit from any charitable effort we could mount. We got on the phone and started making calls; we were overwhelmed by the positive responses received from companies and individuals that were willing to help. We immediately got commitments from Fronte Crane Service, Rush Roll off and Recycling, Berg Demolition, J & J Towing and Hyatt Construction. The City of Pompano Beach and Broward County Sherriff's office were also very helpful with every aspect of planning.
On Wednesday November 17th, the day came to perform the operation. Employees and equipment from each of the cooperating companies came together and worked seamlessly toward a common goal of making short work to refloat, tow, haul, demolish and dispose of the vessel. By sunset the following day, cleanup crews were finishing with the final touches needed to clean up the demolition site. The homeowner had a view from the back porch of her house that she hadn't enjoyed in nearly a decade and an entire community was relieved to see this environmental and aesthetic nightmare disappear. WSVN 7 News did a follow up story on their "Help Me Howard" feature which aired on the 10 o'clock news on Thursday, November 18th. You can watch the story by visiting http://www.wsvn.com/features/articles/helpmehoward/MI90319/. TowBoatU.S. Ft. Lauderdale would like to extend a sincere thank you to each of the partners mentioned above that made this operation possible!
Visit the photo gallery for this operation by clicking here. For more information, photos and video contact TowBoatU.S. Ft. Lauderdale at (954) 783-7821.
###